SelfWealth is a low-cost online broker that lets you trade shares on the Australian and US markets. It has a flat-fee pricing structure of $9.50 per trade regardless of trade size, is easy to use, safe, and offers kids (minor trust) accounts.
This SelfWealth review will go through what you need to know so you can make the best decision in choosing a broker, including who is SelfWealth for, how does SelfWealth work, is SelfWealth safe, how to sign up, how to sign up for a kids account, any gotchas to beware of, and alternative brokers depending on what you are looking for.
As per the disclaimer at the end of the page, all information on this website is for general information only and should not be taken as constituting professional advice.
---
In this SelfWealth review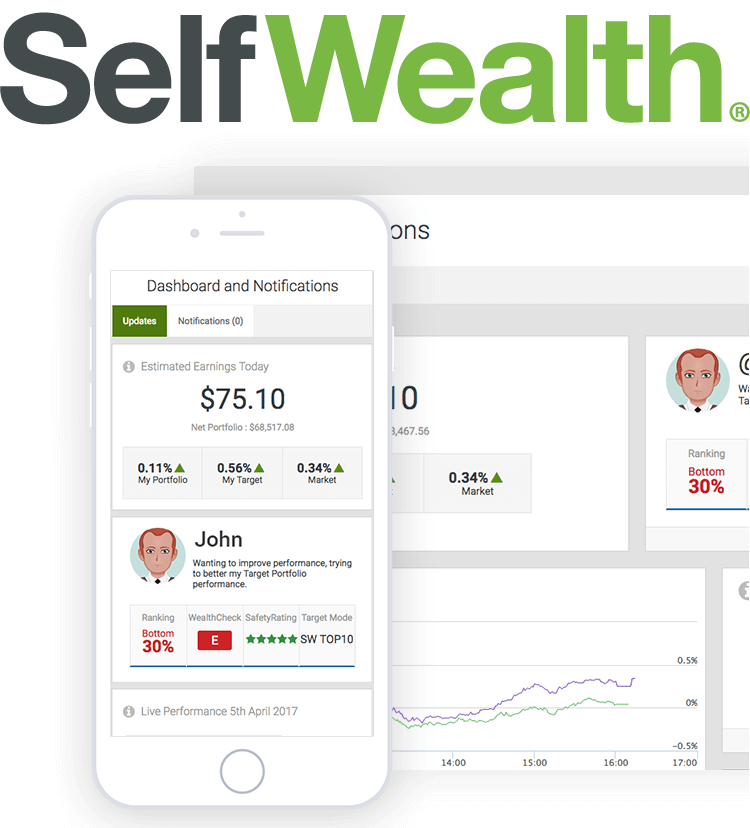 ---
SelfWealth pros and cons
Pros
Low-cost $9.50 flat-fee trading fee
CHESS sponsored
Access to US trading
Automated US tax form (W8-BEN) lodging
Easy to set up and use
Offers kids accounts
Cons
Only provides support via email and live chat
Slow customer service
High foreign exchange fees
No autoinvest feature
Distracting member comparison social features
---
What is SelfWealth?
SelfWealth is an Australian low-cost online broker used by over 100,000 Australian Investors. It has a low, flat fee of $9.50 per trade, no matter the trade size, and offers trading on both Australian and US markets. It is easy to use, safe, and has a very low, flat fee of $9.50 per trade, no matter the trade size. It also offers trading on both the Australian and US markets and is easy to set up an account.
SelfWealth is the original low-cost, CHESS sponsored broker, and as a result, it is also the largest of the low-cost non-traditional brokers in the Australian market. When they came about, there was a choice of high-fee CHESS sponsored brokers like the banks that cost about twice as much (Commsec, NAB Trade, ANZ share trade, etc.), or low-cost online brokers that were custodian-based rather than CHESS-sponsored. They gained an enormous customer base in the community of people who manage their own investments (advisers tend to recommend platforms).
Who is SelfWealth for?
SelfWealth is for investors who wish to manage their own share trading account and want to avoid the high fees of percentage-based platforms where the ongoing fees grow with your portfolio. It is suited to those looking for a trustworthy broker that is CHESS sponsored and offers trading of both Australian and US markets at a very reasonable price.
Setting up and trading through SelfWealth is very easy, and if you have not traded before, it will take almost no time to learn how. Although it is recommended that you learn about investing before buying shares so you understand the nature of the stock market.
How much does SelfWealth cost?
Australian share trading costs
For Australian share trading, there is a flat fee of $9.50 (AUD), and no other fees such as account opening fees, inactivity fees, etc. The only fee is if you require an off-market transfer, which is not the same as moving to another CHESS sponsored broker, which can be done for free.
International share trading costs
For International share trading, the brokerage fee is also a flat fee of $9.50, but that is USD $9.50.
For international trading, you also need to convert your currency, so there is a foreign currency exchange (FX) fee.
How much is SelfWealth's FX fee?
The FX fees are quoted at 60bps (pronounced 60 basis points). A basis point means one-ten-thousandth, and 60 basis points is 0.60%, so you would presume it is 0.60% of how much you are transferring, but this is not the case with SelfWealth.
You are charged 60c USD per $100 AUD, which, depending on the AUD/USD rate, comes out to approximately 0.85% or a whopping $85 per $10,000 exchanged. And this will be payable again when you transfer back.
To calculate, Google 'AUD/USD' and divide 0.6% by that number. E.g., AUD/USD of 0.73 would cost 0.6%/0.73 = 0.82%.
Unfortunately, other local brokers all seem to have high FX fees.
Pearler is 0.5%, which is quite a bit cheaper, and more transparent being charged at 50c AUD per $100 AUD, so you know it is a true 0.5%.
Stake and Superhero are even higher than SelfWealth at about 1% (their '70bps' works the same way as SelfWealth's).
An important point is that I couldn't even find it anywhere on SelfWealth's website that the fee is charged in USD per AUD, making the actual cost much higher than 0.6%. Stake mentioned it, but the calculation was so hard to understand that it took me 15 times reading it to understand it, but at least they explained it somewhere. The only way I had to find it out with SelfWealth was to contact them directly.
Is there an alternative to the high FX fees?
For international share trading, Interactive Brokers (IBKR), along with very low-cost trading fees, has wholesale FX rates at 0.002%, which comes to $0.20 per $10,000 exchanged. That's 250-500 times cheaper than local brokers. IBKR is a custodian-based broker rather than CHESS sponsored, but since CHESS sponsorship is only available for Australian shares, trading on exchanges outside Australia will be custodian-based anyway. Also, IBKR is the largest broker in the world and is listed on the US stock exchange.
Is SelfWealth safe?
SelfWealth has its own financial services license in Australia, so they are subject to regulation by the Australian Securities and Investment Commission (ASIC). SelfWealth is also a publicly listed company, so its financial accounts are audited and published, providing a higher level of transparency.
Australian share trading
Australian shares bought through SelfWealth are CHESS sponsored with individual holder numbers (HINs). This means you can view your holdings at any time independently of SelfWealth through the share registry. This provides a layer of transparency unmatched by brokers who use a custodian model. For trade execution, SelfWealth uses FNZ Australia, which is the same company used by Vanguard Personal Investor for their trade execution.
Due to SelfWealth's cash account structure, your cash held with SelfWealth is safe and secure. Neither SelfWealth nor other third parties such as administrators would ever have access to your money without specific direction from you.
US share trading
Unlike with Australian shares, CHESS sponsorship is not available for shares on other exchanges such as the US, so shares on other exchanges are held under a custodian, which means the broker appoints a separate company — a custodian (in the case of SelfWealth, Phillip Capital Limited, who also provides SelfWealth's US trade execution and clearing and settlement) — to hold the shares under trust on your behalf. When you purchase shares through a custodian-based broker, they hold the legal title for you, meaning they are the legal owner and you are the beneficial owner, so you receive the benefits of the asset without the legal ownership of it.
Your cash for international trading is held in a Phillip Capital trust account with Standard Chartered.
In terms of determining if Phillip Capital is safe, they hold an Australian Financial Services Licence (AFSL) and are regulated by the Australian Securities and Investments Commission (ASIC). ASIC requires licensed financial services providers to meet strict capital requirements and to comply with various internal procedures for risk management, accounting, audits, etc. Client funds are segregated in a separate client trust account for the purpose of asset protection. However, unlike US-based brokers and many EU-based brokers, Australian brokers are not covered by any compensation scheme.
Is SelfWealth easy to use
Yes. As an online-only broker, they have put the time into making an app that only looks good and is easy to use. You can trade directly from your app, as well as transfer money between your account and your nominated linked external account through the app.
However, there have been mixed reviews in the online community, with some saying the app isn't as smooth and easy to use as some others, such as Stake's. In particular, their unnecessary social features continue to be mentioned in a negative light. Let's take a look at that in more detail.
Member comparison social features
SelfWealth has an unusual member comparison social features that are not only unnecessary, but can be detrimental to clients who pay attention to it.
The WealthCheck score "measures the health of your portfolio and how well it compares to other members in SelfWealth. Your portfolio will be allocated a rating between F and A+".
At any moment, your portfolio's returns will be lower than some and higher than others. This is because different parts of your portfolio move up and down at different times — which is the whole point of diversification. If it isn't doing that, you're not properly diversified! Comparing your portfolio to others is not only unhelpful but can often result in you capitulating (abandoning your plan) during an entirely normal short term decline in part of your portfolio, resulting in locking in losses and decimating your returns.
Behavioural economics is the branch of economics dealing with how our behaviour helps us succeed or fail in our financial planning. Studies show that investors making these kinds of mistakes tend to underperform the same portfolio where you just bought and held by over 1% annually (which is a huge amount when the expected return of a diversified stock portfolio is 8-10%).
Customer service
SelfWealth only provides support via email and live chat, and it took 4 business days to get a response to a simple question via email. They also love old fashioned physical paperwork, while some other brokers, such as Stake, are embracing the digitisation of everything.
The result is that it can be frustratingly slow to do anything that requires contacting them. If everything goes smoothly, it's relatively easy, but if you need to consolidate other holdings, change your bank account or address, it can take up to a month of dealing with them.
It also takes a long time before you can even start trading. A new CHESS holder ID to trade under takes 2 business days to set up. Stake, on the other hand, is fully digitised and is relatively instantaneous. You are in the markets ready to trade within minutes once your account is funded.
Does SelfWealth offer live data and reporting?
SelfWealth gives you basic data and reporting, such as:
Live market depth and real-time pricing
Refinitiv buy-sell ratings (over/under valued) and stock recommendations
Yield
Basic performance charts
Watch lists
It is roughly in line with other low-cost online-only brokers, but some other brokers offer superior reporting.
Commsec, for example, offers all of the above, plus:
Stock screener and advanced charting including heat maps, graphs and comparison charts
Data that goes back a very long way
Pricing alerts (email or mobile notification)
A news feed with technical analyses for your stocks (useful for traders, not so much for buy-and-holders).
What you can do, however, is use SelfWealth for trades and open a Commsec account (which is free) just for the reporting and historical data, which would provide both low-cost brokerage (through SelfWealth) and extensive reporting and market data (through Commsec).
Frequently asked questions
Does SelfWealth offer tax reporting?
Yes, they do. They include:
Holding valuations
Brokerage paid
Transaction summary
Estimates for franking credits, dividends and distributions
Changes in holdings summary over the financial year
SelfWealth also integrates with Sharesight (which is free for up to 10 holdings) to provide tax reporting capabilities.
Does SelfWealth have autoinvest?
If you want a completely set-and-forget investment where part of your salary is automatically sent to your trading account and purchased for you on a regular basis so your wealth is growing in the background, you will need to seek out an alternate broker such as Pearler.
Besides removing one more thing to remember, automation has a behavioural benefit along the same lines as mentioned above in avoiding the member comparison social features. Automation removes the need to log in to your account, see the value of your portfolio fluctuate (which is entirely normal), and potentially result in you capitulating (abandoning your otherwise good plan).
Fidelity did a study between 2003 and 2013 and found that clients with the best returns belonged to people who had died or people who had forgotten they had accounts! This shows how important it is not to touch your investment once your plan has been established. Autoinvest is the best way to leave your investment alone to do its thing.
Does SelfWealth have kids accounts?
SelfWealth offers minor trust accounts, allowing children to have their very own trading accounts. An adult can open a share trading account, with one or more adults as trustees and the child as the beneficiary. When they turn 18, shares held in the trustee account are transferred into their own name.
Investing using a minor trust account can be extremely tax-effective. You still need to be aware of the requirements for a minor trust account to be entitled to those tax benefits, such as not taking the dividends or franking credits for yourself and declare any income from the shares in the child's own tax return. But provided you follow the letter of the law, the tax advantages can be significant. Also, note that the legal requirements to claim the tax advantages are rarely explained by brokerage companies, so you will need to do your own research or speak to an accountant.
To learn more about investing for kids, have a read of Investing for children – the ultimate guide
Does SelfWealth allow non-residents?
No, they do not allow non-residents.
The requirements for SelfWealth are:
Live in Australia and have an Australian residential address
Be a tax resident of Australia.
Be 18 years of age or older
SelfWealth does not support foreign tax entities or residents.
Is Selfwealth CHESS sponsored?
For ASX trading, SelfWealth is CHESS sponsored with your own individual holder number (HIN).
For US trading, shares are held under custodian because CHESS sponsorship is only available for Australian listed securities.
Is SelfWealth good for investing?
SelfWealth offers ASX trading, has low-cost CHESS sponsored brokerage, is easy to use, and offers kids accounts. They also offer US trading, however, their FX fees are very high, which will eat into the returns of long term buy and hold investing.
Is SelfWealth a good broker?
It is very easy to set up an account with SelfWealth, and their interface is easy to use. They offer fractional US share purchasing, automated lodging of US tax compliance forms, have good customer service, and low fees.
How does SelfWealth work?
When you sign up, you will be provided with an ANZ cash account to deposit cash to fund your trades. Trades are executed by FNZ, a wholesale brokerage company. Trades executed through FNZ are CHESS sponsored under your own individual holder number (HIN), so you can see your ownership externally to SelfWealth in the share registry.
As with all shares bought on the ASX under your own HIN, the minimum initial trade for any stock or ETF is $500, and subsequently, trades can be of any size provided you currently hold more than $500 worth of that stock.
Trades can be set as "market" or "limit" orders. For ETFs, it is recommended to use what is known as marketable limit orders, which means using a limit order and placing your order a few cents above the ask if buying or a few cents below the bid if selling. You will still be matched with the best price, so it will act just like a market order, but you'll never have any big surprises for those rare times when the ETF price deviates from the underlying value of the stocks it holds.
How do I sign up for SelfWealth?
You can sign up online or through their mobile app. All you need to sign up is an email address, password, your real name, date of birth, contact details, and 100 points of ID. Once your account is approved, you'll be provided with an ANZ cash trading account to hold your cash for trades.
SelfWealth alternatives
For ASX trading, SelfWealth is an excellent option due to being low cost and CHESS sponsored.
However, some reasons to consider SelfWealth alternatives include:
Autoinvest (Pearler, Vanguard Personal Investor)
Lower-cost US share trading and trading on other exchanges (Interactive Brokers)
Purchasing smaller amounts more frequently (Superhero, Vanguard Personal Investor)
Better reporting (Commsec)
Online trading platforms comparison
Online trading platforms comparison
SelfWealth review — final thoughts
SelfWealth is an excellent all-around low-cost broker. It's easy to set up, easy to use, cheap, safe, offers trading on both Australian and US shares, and has kids accounts.
However, if you would like the ability to set up autoinvest, avoid the distracting social features, and even cheaper CHESS sponsored brokerage, Pearler is a great option. Alternatively, if you would like the absolute cheapest CHESS sponsored broker for trading Australian shares along with the best app interfaces of any Australian online broker, Stake fits the bill at $3 per trade (although without the autoinvest feature). And finally, if you would like to trade on other exchanges, including the US, Interactive brokers has cheaper trades and foreign currency exchange rates 300 times cheaper.